New Year's Eve is chock full of shitty parties with even more shitty people. But don't despair, there's some good things happening if you look around. I'm personally sticking to Brooklyn and taking it easy because I've had enough bullshit this year. I dug through a few hundred invites and here are some parties I would actually consider attending. Have fun tonight, kiddies.
All the Brooklyn weirdos will be here which means I will likely stop by.
The MyOpenBar crew is throwing this one so you know it'll be good. Starts at 1am. My night will probably end here.
$10
Superchief and Gold Whistle throw good parties. They're serving dinner early too and it's free 6-9pm.
Prince Terrence and Nick Gazin take over both floors of Lit.
Andy Pry & Lloydski from Tiki Disco are throwing & DJing this. This should be awesome.
No Cover.
Florence & The Machine (DJ Set), Trouble Andrew, Prince Terrence, Dances, Gazin, etc.
Huge Brooklyn bash with Yeasayer (DJ Set), Alex English, Monikkr, etc.
$40-$50
I'm not a Dada Life fan but dudes know how to party. If you wanna go big in BK this is it.
$65-115, 3 hour open bar.
Handsome Dick Manitoba (Dictators), Sylvain Sylvain (NY Dolls), Daddy Long Legs playing live!
Kid Congo, K-Holes, Andy Animal, Jonathan Toubin, Mick Collins, Josh Styles - RnR NYE!
$5-$10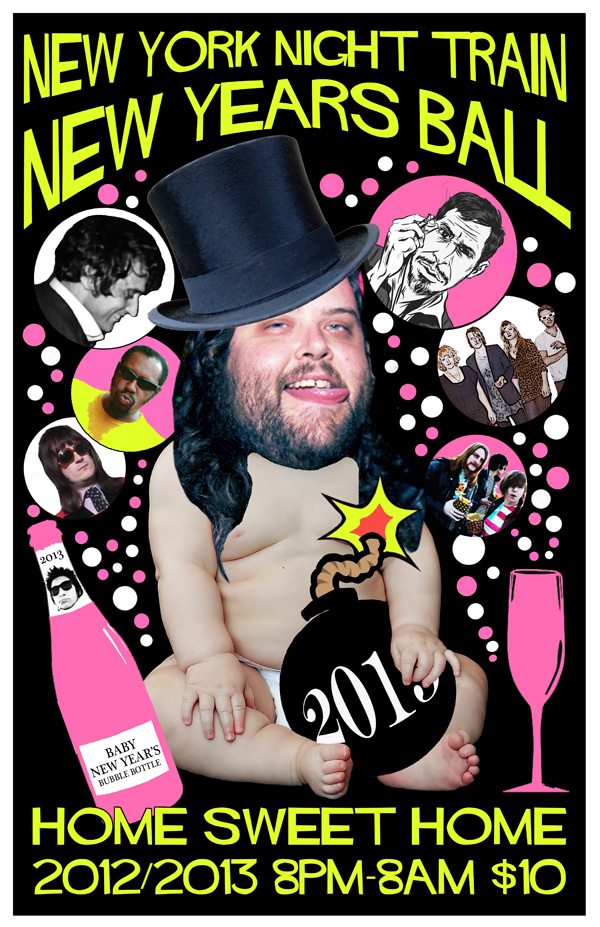 Petey Complex, Lacey Youngblood & 50 other people DJ at the bar owned by Death Set.
Lady Jay's is my favorite bar, that's why it's on the list. Great music will be played.
Jah Jah from Ninjasonik is DJing Duck Duck, could be fun.
No Cover
MeanRed always throws good parties. Nick Hook & Catchdubs are spinning.
Open Bar 9-10pm
My friend Aly is DJing over at Matchless tonight.