Jonathan Toubin is the dude who made NYC dance parties fun again. Tonight is the third anniversary of what may be the best party of the past few years, Soul Clap and Dance Off at Glasslands. He spared no details for tonight's celebration so do come out.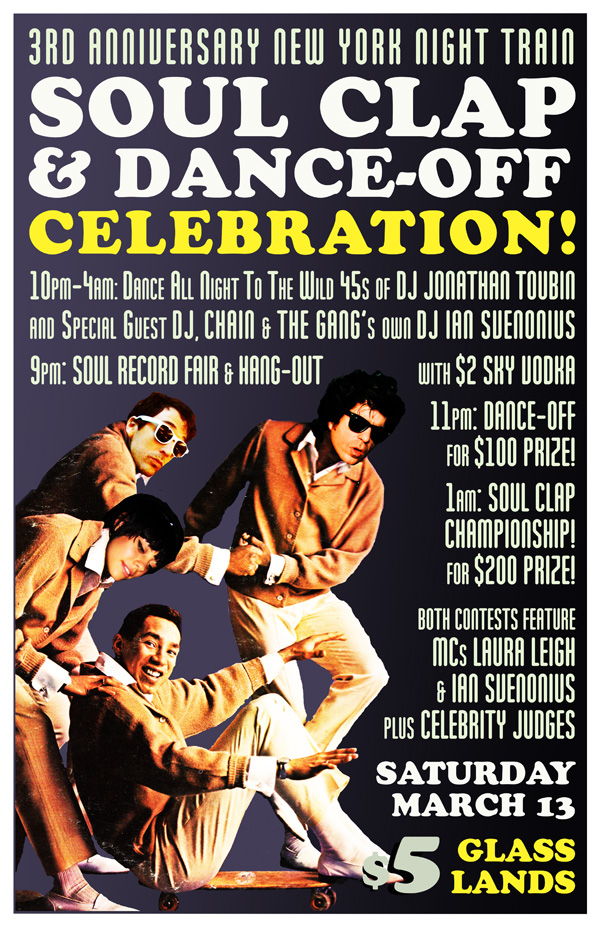 SATURDAY, MARCH 13: SOUL CLAP and DANCE-OFF 3rd ANNIVERSARY EXTRAVAGANZA w/DJs JONATHAN TOUBIN and special guest IAN SVENONIUS and a cast of 1000s, THE GLASSLANDS (289 Kent, Williamsburg, Brooklyn) 9PM – 4AM, $5


New York Night Train's Soul Clap and Dance-Off celebrates its third birthday in style! In the last three years, the underdog party, which features an all night get-down to Mr. Jonathan Toubin's exquisitely exciting soul 45s and a dance contest in the middle, has evolved from intimate neighborhood get-together to one of NYC's biggest sold-out monthly institutions to global phenomenon. In the last year the party broke out of Brooklyn to ping-pong back and forth from Portland, Oregon to Portland, Maine, and from Mexico City to Tel Aviv while remaining stronger than ever at home – hipping both NYC and the rest of the world to some of the finest music of all time in the process.

To commemorate hitting the three year mark, the Soul Clap will feature an early record fair with sellers from the DJ and record vendor community, guest MC/DJ Ian Svenonius, and two Dance-Offs – a regular $100 contest at 11pm open to everyone and, at 1am, a $200 championship featuring winners of three years worth of contests leading up to tonight's. As always, Laura Leigh is the MC and a cast of neighborhood personalities will judge the contests (see below) while Mr Toubin shakes you all night long!

Here's the schedule:

9pm – 10-ish: Soul Record Fair/Swap with both record dealers and DJs hawking their wares. NY Night Train wants to get you not only to get down to the vinyle but get involved in the culture! Dealers will be making a collaborative DJ set out of 45s they have for sale. Also, all Sky Vodka drinks are $2! Dealers include:- Casey from Eat Records- Jonathan Toubin of New York Night Train- Mr. Fine Wine of WFMU's Downtown Soulville- Doug from The Record Grouch- Phast Phreddie, the Boogaloo Omnibus – LA punk legend behind the seminal "Backdoor Man" fanzine and current resident DJ of Subway Soul and the Wang Dang Doodle- Rodney of NY Vinyl- William from Radio Heartbeat (NY's most notorious power-pop DJ with a box o'soul from his native New Orleans)

10pm – 4am: All night dancing to the 45rpm magic of Mr Jonathan Toubin and guest DJ Ian Svenonius(Chain and the Gang, Make-Up, Nation of Ulysses). While Mr Jonathan Toubin tries to introduce around fifty new 45s every month, tonight we get down only to the Soul Claps biggest and baddest classics.11pm: Dance-Off w/MC's Laura Leigh and Ian Svenonius and a panel o/judges: - Alana Amram ofAlana Amram and the Rough Gemsand bassist for everybody except Lou Reed- Jake Noodle Boy of Wellington Ladies Welfare League- Amanda Berkowitz – back-stabbing slut/synth darling of FiASCO, Soviet, WIT, etc- Seva Granik, head of NYC event production company Abracadabra Talent and founder ofMyopenbar.com- Tara McPherson – illustrator, artist, and professor ("the crown princess of poster art" – ELLE Magazine

1am: Dance-Off Championship w/MC's Laura Leigh and Ian Svenonius and judges:- Brooke Baxter and Rolyn Hu, proprietresses of Glasslands and Manhattan Inn- j sinopoli (dewey xoxo) of of street radio international http://www.facebook.com/l/b6b06;legalizedancing.org- Laurel Bell – raw chef of Rockin' Raw- Mr. Fine Wine DJ/voice of the world famous WFMU radio show Downtown Soulville- Sarah Brown of Slingshot Photography

dance 'til 4 and then go to see Mr Jonathan Toubin spin at Shanky afterhours at the Badlands immediately following the Soul Clap!