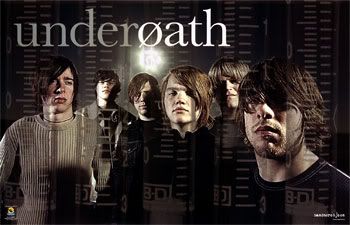 I used to really dig Underoath and then they went all commercial and got shitty. Then on the last album they got good again. I'm not sure how that happened and I can't think of another band that successfully went back. Anyway, they are giving away a free ringtone but you have to sign up for some site. They don't actually mention which song it is but give it a try and see what happens. I sure as hell won't...
Via
MySpace
We're giving away a free ringtone for joining our mobile club.

Here's what you need to do.

Text underoath to 66937.
*OR CHECK OUT OUR BLOG AND JUST ENTER YOUR CELL NUMBER THERE!

You'll get two messages, make sure to reply with Y to the second to officially subscribe to our new mobile fan club (don't worry, you'll only get messages from us and it's free).


Next go to www.mozes.com and login with your number. If you're subscribed and registered you'll see a Ringtone link toward the bottom of our Mozes profile. Click the link and the content will be sent to your phone.


One more thing, make sure to Smack us. It's a way for you to leave us a note and let us know what's on your mind.


We'll text you soon!